What to get mom? That is the the question. You love your mom dearly and cherish the woman she is but just can't quite figure out what to get mom! There's been a few hints she's dropped during the year and a few things you've come across that you knew she would adore. But alas, those gift ideas are long forgotten and you're back to square one.
Well there's no reason to fret. Figuring out what to get mom is a lot easier than you think and I've made it really easy with my list of top gifts any mom would love. So start checking out these unique gift ideas and stop fretting over what to get mom.

Wondering what to get mom can be frustrating; you want to get her something that captures her fun and sweet style. Well, this blast from the past White Lady Kit-Cat Clock
is just the thing! Its sophisticated fun at its finest and will have your mom grinning from ear to ear.
The clock is reminiscent of iconic 1930's art, and has cool and classic details any mom can appreciate. The Kit-Cat Clock's eyes and tail tick away with time, all while showing off her lovely pearl necklace and long lashes. This little beauty is a surefire conversational piece and will make the perfect addition to your mom's kitchen or powder room.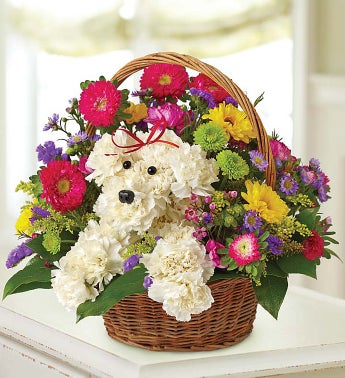 Diamonds may have been a girl's best friend in the past but now this darling dog bouquet will be your mom's new pet! This beautifully unique "A-Dog-Able" flower arrangement from 1800Flowers.com is the answer to what to get mom. Make it extra special and have it delivered to her work or home; she'll be in dog heaven!
The Carnations, assorted Poms, and Asters make this flower assortment so realistic and cute, your mom won't know if she should walk it or water it!

Although jewelry can seem a bit ordinary for what to get mom, I'll have you know that this piece is anything but. This stunning butterfly charm is sure to become your mom's go-to piece of jewelry.
The charm is completely handmade and the twisted cords symbolize that love is never far away. The delicate design of the charm is truly beautiful and captures both the fragility and the strength of a butterfly perfectly. For a picture perfect display, add the charm to one of Layla Grayce's layered bracelets. There's plenty of room to add on, so mom can look forward to receiving a new one each year. How's that for a special tradition?

Maybe you're still at a loss for what to get mom. Well, I've got the perfect solution! Dedicate a special day to your mom. That's right, give mom her very own day! It can be her birthday, or Mother's Day, or any other day that has special meaning. Whatever you choose, that day becomes her's, like her own little holiday.
Queens get a day, Saints get a day, heck, doesn't it only seem fair your mom should have her own day too?! Included in the gift is a certificate of ownership and an online profile to share your mom's day with friends and family!

It's no secret that mom spends an awful lot of time in the kitchen, and thank goodness otherwise I suspect you'd be living off of bad tv dinners. So why don't you help her embrace the domestic goddess she is and give her something to add a little style and spunk to cooking and dish washing?
Flirtyaprons.com has the answer for what to get mom with their classy selection of adorable aprons, in a wide variety of classic styles, patterns and colors. Nothing will add a little excitement to mom's time in the kitchen like one of these flirty little numbers. And don't be surprised if dad starts helping out more in the kitchen because the stove won't be the only hot thing!
If you're mom is an accessory diva, she'll go gaga over the matching gloves Flirty Aprons offers. So go ahead and get a set that will allow her to be in style no matter what she's doing.

I hope this list of unique gifts has helped you solve your problem of what to get mom. Whatever you choose to get her just remember that she'll be glad no matter what because its from YOU! Although it never hurts to spoil your mom and remind her just how much she is loved! (Wink Wink)
---
Do you have the perfect solution for what to get mom? Please share! We love to hear your stories and ideas! You never know, they may just end up on Unique Gift Ideas Blog!
If what to get mom is still lingering on your mind. Check out some of our other unique gift articles for more unique gift ideas: