What kind of gift do you give to the person who does so much for your child? The person who stays up late grading papers, often times uses their own money to make your child's classroom experience more meaningful, and most importantly the person who shapes your child's mind.
With National Teacher Appreciation Day coming up on May 7, 2013, unique gift ideas for Teacher Appreciation Day can be tough to come by. Sure, you could throw money onto a gift card, but that doesn't really convey how much you appreciate little Sally's teacher's time, effort, and dedication to education. So I'm sharing my top picks for unique gift ideas for Teacher Appreciation Day:

Nothing says "thank you" quite like a personalized piece of art. This is one of the most unique gift ideas for Teacher Appreciation Day: the school teacher print cartoon from Occupation Gifts. The 11" x 14" cartoon print features a teacher in the classroom environment where they work their magic. Personalize the cartoon print with the school name as well as the special teacher's name and physical traits, like gender, skin tone, or hair color (including a bald option).
As far as unique gift ideas for Teacher Appreciation Day go, this one is ready to give. It comes with a mat in your choice of classic colors. What's more, it's already framed in quality oak wood. The only thing you'll need is a nice gift bag, and you're set to go!

Teachers often lug around supplies, whether it's extra pencils for tests or egg cartons for a project. Personal Creations has the answer with a personalized teacher tote bag. When you're hunting for unique gift ideas for Teacher Appreciation Day, you can't do much better than this useful tote. It features a classic teacher motif, with an apple, ruler, and chalkboard design. The bag is a roomy 15" x 13" and features a 4" gusset to create plenty of space. Personal Creations will embroider up to 3 lines on the tote, allowing you to add the teacher's name or grade.
There are plenty of fun ways to give this gift. For example, pack it with supplies the teacher uses frequently, like washable markers or construction paper. However you present it, that special person will appreciate such a useful gift.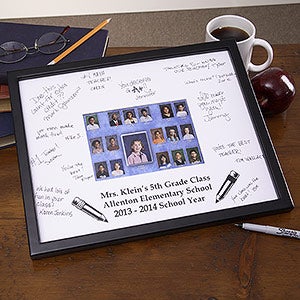 The best teachers make an impression that lasts well beyond the last day of school. Show him or her just how much influence they have by giving this class portrait signature mat frame from Personalization Mall. One of the most personal, unique gift ideas for Teacher Appreciation Day, the white mat allows students to sign their names and write personal messages. Imagine how much Mr. Smith will love reading a message like "I learned so much from you," or how much Mrs. Chou will enjoy reading "You taught me that math can be fun."
This quality mat is cut for a 5" x 7" class photo and comes complete with an 11" x 14" black wood frame. Personalize the mat with the teacher's name, class or grade, and year. No special pen is required, which makes collecting messages and signatures hassle free.

When it comes to unique gift ideas for Teacher Appreciation Day, this is a fun choice: the pencil-shaped planter/vase from A+ Teacher Collection on Amazon. Authentic-looking, hand-painted pencils, wrapped in a cute plaid ribbon with an A+ Teacher emblem. Made of resin, it's lightweight and long-lasting, making it ideal for that special teacher's home or classroom.
There are plenty of fun gift-giving options with the pencil-shaped vase. Consider adding a bouquet of colorful spring flowers. You might also fill it with flowers the class picked itself. Want to make the gift even more personal? Look online for a kid-friendly paper flower pattern, and then have the kids make their own flowers for the vase.

The apple is the universal American symbol of the teacher. That's what makes Personalization Mall's apple brass teacher bell one of the more unique gift ideas for Teacher Appreciation Day. This 3" high apple is a bell your child's teacher will love to use to get the kids' attention. It's made of solid brass so it will last through many school years, and it features a deep red lacquer overlay. Personalize the bell with up to 2 lines, such as the teacher's name and grade or year.
Give this gift in a unique way by nestling it in a basket full of real apples. Or tuck the bell in an apple-themed gift basket that includes a selection of apple-flavored muffins or a gourmet apple pie.

The end of the school year is always a blur, and May 8th will be here before you know it. So it's time to start shopping for your favorite teacher. No matter which of these unique gift ideas for Teacher Appreciation Day you choose, you'll be sure he or she understands how much you appreciate their hard work.
---
Do you have unique gift ideas for Teacher Appreciation Day, or for the teacher in your life? Please share! We love hearing your career gift ideas!
Want to find more unique gift ideas for different careers? Check out some of our other unique gift idea articles: